Alpen Products P/L searches the globe to bring Australia the best in party products! Constant development allows Alpen to supply new and innovative brands and products from all over the world - trust Alpen as your one stop shop for party!
DECROTEX - Decorator Balloons & Accessories

The Decrotex range of decorator quality balloons & accessories has been developed with the help of our industry professionals and was launched at BASA ABC 2007 where it gained the acceptance of the balloon decorator market. The range has been developing ever since and has been a very successful range for its users.
With the balloon decorators in mind, we have paid particular attention to colour, shape, quality and value for money when developing this balloon range. Testing has given us float time results between 14-16 hours without High Float.
The Decrotex brand offers a range of products including bulk and retail packed decorator quality balloons in a variety of 46 colours across 3 tone styles, a wide range of bulk and retail curling and decorating ribbons, balloon weights, decorative foil & foam sprays, centrepiece weights and balloon clips!

PARTIES FOR EVERYONE

Create a real party atmosphere with one of Alpen's founding brands,'Parties for Everyone'! Parties for Everyone offers a complete range ofBalloons, Candles, Sparklers, Hats, Poppers, Streamers, Favours, Noisemakers, Hawaiian Leis, Masks and other decorative accessories.
Using the wide colour spectrum of Crepe Paper, Streamers and Balloonsthe ability to colour co-ordinate with Alpen's Party and Catering products gives Alpen the market winning, all encompassing edge.



FOIL BALLOONS - NORTH STAR, CTI & KALEIDOSCOPE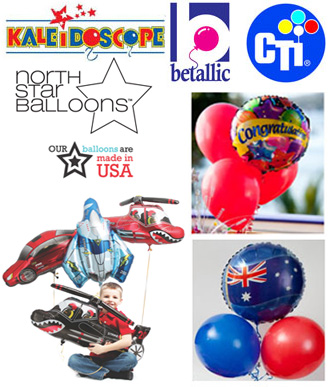 Foil Balloons add that intriguing element to many balloon functions! Be it your child's first birthday party, a wedding celebration or Valentine's day, foil balloons quickly and accurately paint a picture; we all know that a picture paints a thousand words!
Alpen stock 4 of the worlds best Foil Balloon brands! NorthStar, Betallic, CTI & Kaleidoscope! They are all well-known and trusted foil brands. Alpen has formed strong relationships with these companies after years of communication and acknowledgement of each other within the balloon and party industry.
Alpen stock selected designs of foils across a variety of sizes & themes, including 4", 7" & 9" air filled, 18", 23-46" Shapes & Jumbos for Helium filling as well as the alphabet & numbers in Megaloons & Miniloons! Most products are offered in handy hang sell packaging which creates a great display opportunity in stores all around Australia! The Alpen range of foil balloons is forever being refreshed and updated.
GLIMMER BODY ART
Alpen are thrilled to bring GLIMMER Body Art to Australia. Glitter Tattoos are the hottest new body art sensation taking America by storm!
These beautiful temporary Glitter Tattoos are waterproof, last up to 7 days and are dermatologist tested.
There is a great retail range for re-selling in your stores and fantastic professional kits and refills! Dozens of glitter colours, hundreds of stencil designs.
To watch how Glimmer can be applied, watch the video below.

Want to decorate something other than your body? Glimmerize It brings a great range of Glitter transfer art designs for other materials including clothing, plastic, glass, metal - the list goes on! Glimmerize your phone cover, school bag, leather shoes, windows etc. And, they still work with on your skin! To see how Glimmerize It works, check out this video below.
Head to www.glimmerbodyart.com for more Glimmer info!
Like the Glimmer Body Art Australia Facebook page to be kept up to date! www.facebook.com/glimmerbodyartaustralia
THE EXPRESSION FACTORY - The Regent Group, UK

Express yourself with a great range of professionally designed party accessories! The Expression Factory range offers a co-ordinated concept across party accessories and a great visual display impact in stores!
'The Expression Factory' is a division of The Regent Group based in the UK. Their primary products are gift cards and wraps. The Regent Group have a large team of graphic artists who co-ordinate their designs across a diverse range of products. This team has been designing for 'The Expression Factory' and 'Star Foil Balloons' range for over 18 years! Alpen Products import a variety of mix & match designs in big & small badges, banners and foil balloons from the 'The Expression Factory' & 'Star Foil Balloons' ranges.

BALLOON & PARTY LIGHTS
Alpen's Balloon & Party Lights are super versatile! They are light weight which makes them suitable for use inside or on the outside of balloons, indoors or outdoors & are not limited just to balloons! Add some light to your next occasion!
AEROSOL RANGE
Alpen are proud to bring Italian quality to Australia with their range of aerosol cans, including Hair Spray, Silly String & Spray Chalk. Alpen's range of sprays are the top quality on the market, from an ISO 9001-2000 company, you can trust this range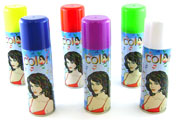 HAIR SPRAY colours are available in a fluro range, hot straight colours and glitter varieties.
SILLY STRING and SPRAY CHALK ranges come in a great mixed selection of colours.
Imagine letting your kids draw and paint all over the driveway for games and art creation over and over again without leaving permanent markings. This is now possible with Alpen's new SPRAY CHALK. Spray on, dust or wash off with water.
Alpen's aerosol range comes from one of the world leaders in the field of aerosol production. The sprays are sourced direct from Italy and meet all the CEE and USA aerosol regulations and are produced in accordance with regulation 842/2006 prohibiting the use of 134a in novelty products.
FACE & BODY PAINTS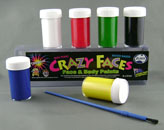 Alpen range a variety of Theraputic Goods Association approved face and body paints! There is a face and body paint suitable for everyone from a starter kit for the home user for one-off party or event, to large quantity jars for professional use. Available across a range of straight primary colours to more dramatic tone and style variations including metallic, candy, fluro & glitter face and body paints!
To bring you this range, Alpen have co-branded with the well-known Australian made 'Crazy Faces' brand byColorburst.
GLITTER & SCATTERS
Add sparkle to your table setting or craft work with Alpen's Glitter & Scatter ranges. Alpen have a vast number of designs including celebration numbers, designs for weddings, parties and birthdays, many specific shapes and colour ranges. Many products are available in retail or bulk packed options.
CANDLES & SPARKLERS
Are you looking something other than the 'standard' candle to make someone's celebration cake one to remember? The Alpen candle range has a great variety of novelty candles includingneon, metallic, numeral, glow-in-the-dark, smiley faces, happy birthday plaques and pick candles. Alpen also stock a range of packet sizes in gold sparklers, great for all celebration events.
Alpen also supply the "Azrah Designs" Party Candles - a spectacular range of celebratory candles in Alphabet, Numbers & Themes. Azrah Designs candles are clean burning and hand painted. Visit www.azrahdesigns.com.au/product-range/candles/ to view a variety of designs!
CREPE PAPER & STREAMERS
With over 30 colours available in a variety of styles and sizes, the Alpen Crepe Paper range has a product for any decoration need. Our crepe material is available in Crepe Streamers, Crepe Logs & Crepe Paper, in a variety of pack sizes and colour combinations.
PARTY FAVOURS & PIÑATAS
Alpen Products P/L has a great range of fun and exciting party favours and toys for all ages and genders. We strive to keep this range refreshed and updated, keeping up to date with trends and market demand. Use Alpen's party favours to fill the Alpen Loot Bags, Laser Party Boxes and our range of traditionalPiñatas - these will ensure your celebration is a "hit"!