DUNI

In recent years, Alpen has been appointed the Authorised Australian Distributor for Duni, a brand synonymous with arguably the most exciting and high quality range of Hospitality / Fine Dining tabletop wares on the market.
Duni is very well known and highly respected European leader in quality disposable tabletop products such as Napkins, Table coverings, Candles, Food & Drink accessories and Food solutions. Alpen are continuing to explore the vast ranges which this great company supply, and introduce them to the Australian market.
Duni is changing the way we present our tables and is influencing our customers' image projection. It is a new concept to the Australian market, and we are excited to share it with you. Visit the Duni website for some insight into the wonders of new tabletop presentation: www.duni.com , or contact us for more information!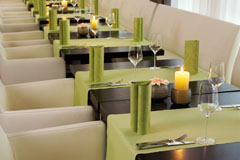 TISSUE NAPKINS

Alpen's high quality tissue napkins are manufactured from the finest 2ply European tissue. Available in a variety of sizes, folds, pack quantities and colours, Alpen can truly colour co-ordinate napkins for any occasion. Why not splash some colour onto your table with our economical tissue napkins!

COLOUR CO-ORDINATED TABLEWOW! ™ *** BEST SELLING RANGE ***

Colour-co-ordination is imperative for every event and it is something Alpen does very well. Alpen's best selling Table top colour co-ordinated range includes premium quality Plastic Tableware, reusable Plastic Tablecovers and our Coloured Napkins! Add some WOW! to your next event and brighten it up with colour co-ordinated table top settings.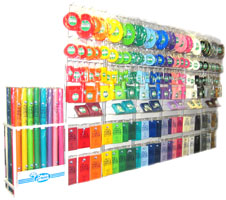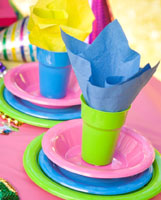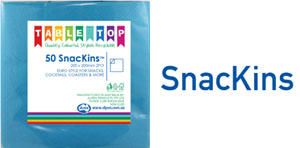 Plastic Tableware:

Lunch Plates
Dinner Plates
Oval Plates
Bowls
Cups
Cutlery: K/F/S

Plastic Tablecovers:
Tissue Napkins:

Retail Packs: SnacKins, Lunch & Dinner
Bulk Packs: Cocktail, Lunch & Dinner

Plastic Drinkware:

Wine & Champagne
Cocktail & Martini
Wine Goblets & Tasters
Shot Glasses
Tumblers - tall & short
Beer Cups - large & small
Beer Jug
FOOD & DRINK ACCESSORIES

The humble Toothpick was one of the original and most prominent products in the Alpen Catering Collection range and over the years it has been joined by a huge array of additional Food and Drink accessories. The Alpen food accessory and decoration range now includes Bamboo Skewers, Toothpicks, Baking Cases, Steak Markers, Cake Frills, Flag Toothpicks, Birthday Candles & Sparklers plus many other items. You can present the perfect drink with a cocktail parasol & animal decoration, a swizzle stick or perhaps a decorative straw.

BAKING CASES *** LOCAL PRODUCTION ***
Alpen's local paper production also includes a wide variety of sizes in baking cases, covering bulk and retail production of Petit Four Cases, Patty Pans, Muffin Cases & Pan Liners. Our baking case range is manufactured from traditional European greaseproof paper for quality baking performance. Production isn't only limited to white; many items are available in a variety of colours including PINK, being used for Breast Cancer Awareness campaigns!