Pre-Christmas Orders:

We will be doing our best to process all orders received prior to Christmas. Due to peak season demands on shipping companies, freight times often extend prior to Christmas.
Our recommended dates for placing orders that you would like delivered before Christmas are:
East Coast delivery, place orders by COB Thursday 14th December.
Other areas and West Coast, place orders by COB Monday 11th December.
Unfortunately no delivery guarantees provided by freight companies and shipping is beyond our control once your order leaves our warehouse. Please track orders using Your Delivery Notification email which you will receive the day your orders is despatched.

SHIPPING DELAYS

Please note that shipping companies are experiencing peak season shipping increases which can cause delays. Alpen will continue to despatch all orders, including overnight satchels, however there may be a delivery delay that is beyond our control. Please refer to the relevant shipping company websites when you receive your tracking information for updates.


Alpen use Direct Freight as our main road freight provider, to check delivery estimates, please check their website directly: https://www.directfreight.com.au/ETACalculator.aspx


Pallet Orders: Pallet shortages are requiring us to send our the majority of orders on plain pallets.
Freight Terms as at May 2021
Alpen can deliver all over Australia using a variety of shipping companies.
We strive to dispatch orders from our warehouse in Cromer next day if received prior to 12 noon. During various peak seasons, our warehouse picking can often push out to 2-3 days after order receipt. We will communicate this above if delays are currently being experienced.

If you have an urgent order or require a specific delivery date, please ensure this is communicated at the time of placing your order.

If you place a "customer collect" order, please allow 24 hours between placing your order and collecting.

Depending on your delivery address, goods can take approx. 2 days to metro locations and up to 2 weeks for remote country locations.

We are still in the process of streamlining our freight and online ordering systems. If you have signed up for an electronic copy of your invoice, your tracking details will also be contained. If you are not receiving this, please email us on sales@alpen.com.au or phone us on 02 9931 7600 to get your account updated.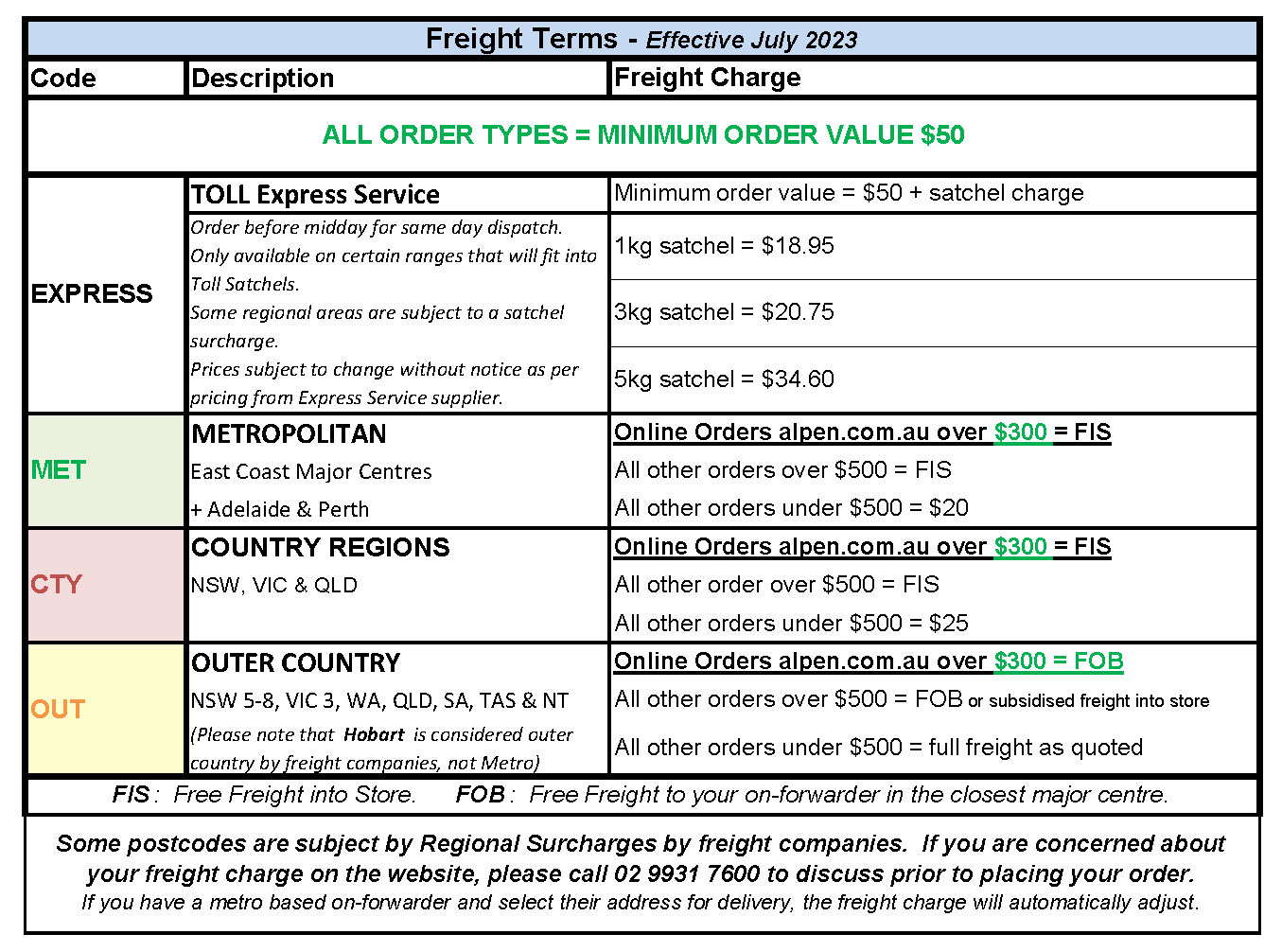 See the map below to help you know which area you are in:
This information provided and regions defined on this map are subject to change. The built-in website freight calculator during the checkout process is the most current information and will be deemed as the correct information.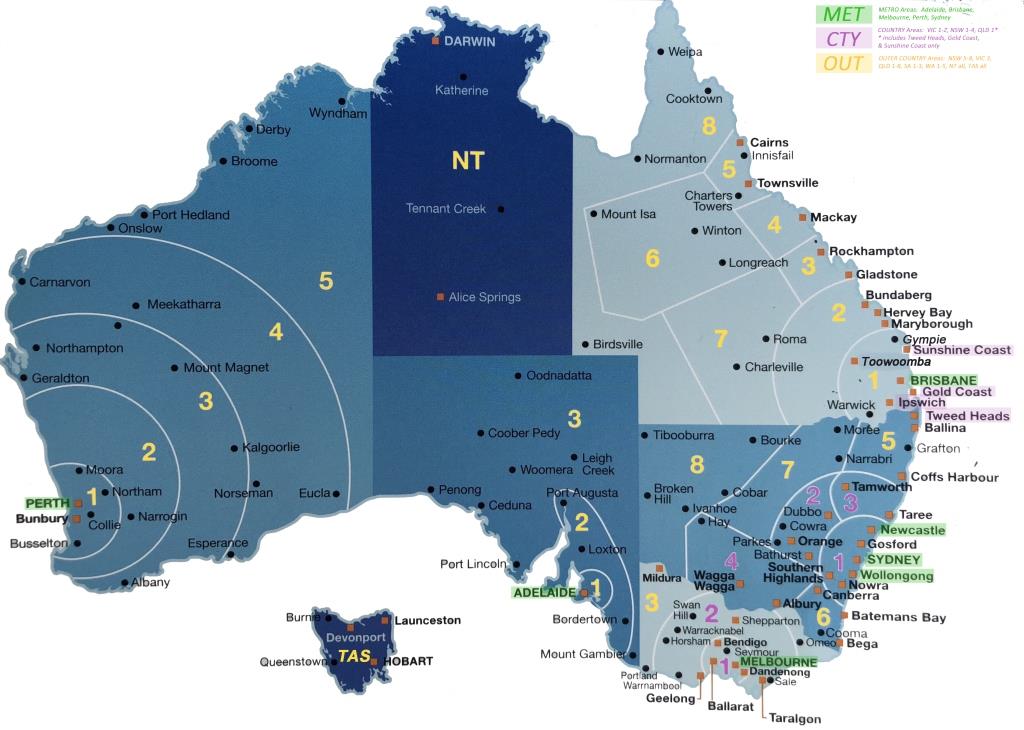 View our prepaid customer terms and conditions here
Returns/Claims
Claims for damaged or defective goods or incorrect delivery must be made within 5 business days of delivery, via notification to our Customer Service Department or your Sales Representative. Goods must be returned by our Preferred Carrier only and a copy of the invoice must be attached. Goods will remain at the customer's risk until accepted/delivered to our warehouse. No returns are accepted on Clearance goods.
Change of Mind Returns



Change of mind returns are only accepted within 10 days of the invoice date of the ordered items, this rule also applies to first time orders.




Freight and returns must be organised by the customer.




Once the returned goods have been received and inspected (they must be in the same condition as when delivered, unopened and unused) a store credit will be assigned to the customer's account to the value of the returned goods – less any restocking fee.




A 15% restocking fee for Change of Mind Returns will be charged

(this will be deducted from the calculated store credit value)




Seasonal product returns will not be accepted once the seasonal event has passed.

We will not accept returns on COVID-19 related PPE products.
Orders:
Customer Service is open during the hours of 8.30am - 4.30pm Monday to Friday
Online www.alpen.com.au – free freight on orders over $300! (as detailed in the delivery freight terms table above)
Phone your order to our Customer Service team on 02 9931 7600 or fax it at any time on 02 9981 2444
Email our sales department at sales@alpen.com.au