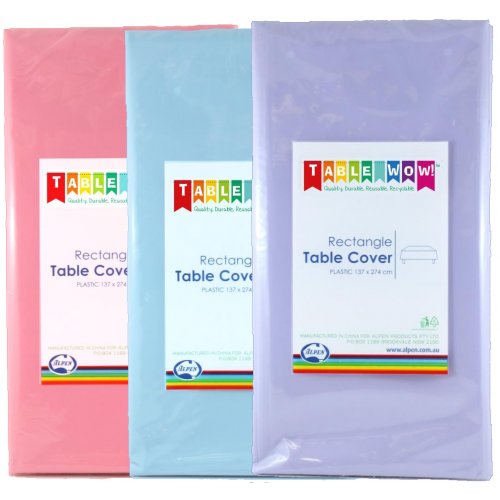 Product Code: 388188
Barcode: 29310720881885
Quantity: Dozen (12)
This assortment of Rectangle tablecovers includes:
4 x Light Pink Rectangle Tablecovers
4 x Light Blue Rectangle Tablecovers
4 x Lavender Rectangle Tablecovers
Alpen's tablecovers are made from PEVA (polyethylene vinyl acetate) which is a non-chlorinated vinyl and is commonly used as a substitute for PVC (polyvinyl chloride) – which is a type of chlorinated vinyl. PVC is a known carcinogen and should generally be avoided where possible. PEVA is free from phthalates.
Our tablecovers are recyclable with your Soft Plastics recycling which can be taken to the major supermarkets for return via the REDcycle system. Please cut them into approx. A3 paper size to aid in best recycling practices.
They are each 137cm x 274cm, which easily covers a standard tressle table.
Quality, Durable, Reusable, Recyclable!
Other Customers Also Bought